I am delighted to announce Danielle Watters Westbrook has been appointed as CDL's Director of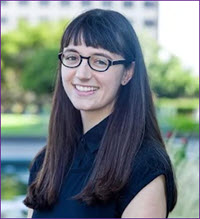 Systemwide Library Planning with a start date of May 15th, a position that provides collaborative leadership to the UC Libraries in support of our shared strategic work. Danielle will play a key role in co-envisioning systemwide policies and initiatives, and finding the appropriate path for achieving systemic change that realizes the aspirations and goals of the UC Libraries. In recognition of the need for and potential of dedicated planning and analysis for collective endeavors, Danielle will be the director of a systemwide library planning team consisting of four service, data and planning analysts, while also continuing her service on CDL's senior leadership team. Danielle's work will focus on advancing the vision of the Council of University Librarians (CoUL) and contributing to data-driven decision making and deliberation within the UC Libraries Advisory Structure, Systemwide Planning & Consultative Structure and UC Office of the President.
Danielle joined the University of California in 2013 as the Shared Print Analyst in CDL's Collection Development and Management program, and transitioned to the role of Systemwide Library Planning Analyst in 2017. Her steadily increasing responsibilities in strategic planning, assessment and policy development in service of the UC Libraries, CDL and the Office of the President led to a 2021 promotion to Senior Analyst. In addition to staffing the Council of University Librarians, Danielle supported the provost-appointed Systemwide Library and Scholarly Information Advisory Committee (SLASIAC) and Shared Library Facilities Board (SLFB). In all of these contexts, Danielle became an instrumental contributor to group deliverables, including the Phase 1 SILS report to CoUL (2018), early Project Transform presentations to the UC Provosts (2018/19), the SLASIAC systemwide libraries study group report to the UC Chancellors (2020) and, most recently, the Phase 1 RLF Operations Funding report to the UC Provost (2023). Danielle's passion for the power of collaboration, and the power of service to a greater community, has propelled these achievements, and will be a continuing driving force in this new chapter of Danielle's career: "I am thrilled and honored to continue to serve the University and UC Libraries through this new role, and look forward to further opportunities to partner and collaborate with colleagues across the system."
The revitalization of CDL's systemwide library planning portfolio comes after a significant hiatus for the Director role. Despite the significant success of systemwide library planning as a collaborative activity across the UC libraries and CDL, in 2008, financial pressures brought on by the great recession, coupled with the retirement of the Director of Systemwide Library Planning, contributed to the decision by UCOP to formally disband the Office of Systemwide Library Planning. "I am so grateful that we are now able to bring back this pivotal role. The UC Libraries have proven over and over what we can achieve together, and our shared work deepens and accelerates when we all have solid data and a solid framing of the issues to build from," says Günter Waibel, Associate Vice Provost & Executive Director of the California Digital Library. "This new Director position and the SLP team show how UCOP investments at CDL can directly empower and further our systemwide collaboration and effectiveness," adds Kristin Antelman, University Librarian at UC Santa Barbara and Chair of the Council of University Librarians. A new senior analyst position for the systemwide library planning team will be posted shortly.
Prior to joining the CDL, Danielle worked in Licensing and Collections Management & Planning at the University of British Columbia Library. She holds a Master of Library and Information Studies from the University of British Columbia, and a Master of Arts in the History of Education from the University of Toronto. Danielle enjoys exploring the roads and trails of California, both by foot and by bike. When not at work, she is typically somewhere outside, drinking coffee, and with her adorable dog, Enzo.