In January 2023, the University of California libraries launched a landmark research project – Project LEND (Library Expansion of Networked Delivery) – to investigate the potential for expanded lawful use of digitized books held by academic and research libraries. The project seeks to analyze all aspects of a digital access program — including user needs, legal frameworks, technical requirements, and collection scope — in designing an expanded service or set of services for UC faculty, staff, and students. Project LEND is generously funded by the Mellon Foundation.
Learning from the pandemic
When college campuses and libraries across the country closed during the early months of the COVID-19 pandemic, many began offering greater access to digital books as an emergency measure. These programs met an immediate need — and raised a host of questions about copyright law, the role of libraries and the potential for technology-enabled research that were unforeseen even a few decades ago.
"One of the key lessons we learned during the pandemic is that increasing researchers' access to digital books enables innovation," said Rice Majors, the associate university librarian for scholarly resources at UC Davis and the project's principal investigator. "That's why, as we explore what future services might entail, we want to future-proof what we create, leaving room for potential uses we cannot even imagine today."
Project Scope
Project LEND is a two-year investigation spanning four research areas of interrelated domains:
User requirements — To understand the needs of diverse UC faculty and students, we are using focus groups and other participatory design methods to detail key use cases for research, education, and clinical care scenarios.
Legal frameworks — We are conducting an evaluation of the frameworks under which libraries could provide expanded access to digitized books, including those still in copyright.
Technology requirements — We are reviewing and analyzing existing technology platforms and systems for sharing and interacting with digital books, and specifying requirements for creating new systems and services.
Collection scope — We are determining the optimal composition of a digital book collection to meet user needs, what digitized collections are currently available or where more digitization efforts may be required, and how best to manage both print and digitized collections.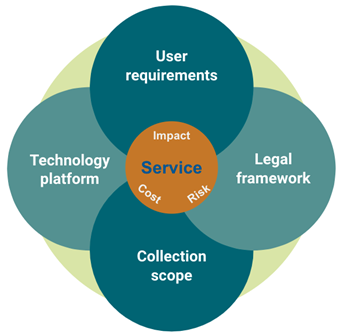 Augmenting print access with digital access
"Ultimately, we envision a service that leverages large collections of digitized books to better support scholarship and offer transformative advantages to scholars by augmenting print access with digital access to our collections," says Erik Mitchell, The Audrey Geisel University Librarian at UC San Diego, who together with Günter Waibel, associate vice provost and executive director of the California Digital Library, are co-principal investigators for the project.
More Information
To learn more, read our press release, the project report written at the conclusion of an earlier environmental scan phase, or the position paper on why this research is important to UC. To reach the project leadership, please contact projectlend@ucdavis.edu. Press inquiries only should be directed to Nikki Kolupailo, UC San Diego Library, nkolupailo@ucsd.edu.